Stable and Diversified Supply Chain
We have a resilient, stable, and diversified supply chain. Combining our dramatic reduction in SKU count and increased standardization with manufacturing locations on 4 continents and a diversified supplier base, we are capable of withstanding both fluctuations in demand and disruptions to supply.
Coordinated Global Planning
Our factories and suppliers plan capacity and invest in new equipment based on reliable short- and long-range forecasts from Marketing Arms. Planning is coordinated globally and acts as an impartial liaison between Marketing Arms and Factories. As a result, our Marketing Arms reap the benefits of reliable supply and provide our customers with excellent service levels and industry-leading fulfillment rates.
No More "Feast and Famine"
With clear visibility of future demand and a significantly lower SKU count, we are able to smooth out production loading for our factories and suppliers to avoid the "feast and famine" effect without taking undue risk on built-to-stock (BTS) goods. What inventory we do maintain at our Global Warehouse is shared across multiple Marketing Arms, with minimal risk of becoming dead stock. Our Global Warehouse has become a strategic capability in driving efficiency at both our Marketing Arms as well as our Factories.
That clear visibility of future demand and significantly lower SKU count have helped us in other ways. Our factories and suppliers can now offer competitive lead times for materials, components, and finished goods, which allows us to capitalize on short-term business opportunities and means that our warehouses and distribution centers aren't overloaded with safety stock.
State-of-the-Art Manufacturing
Our manufacturing facilities have state-of-the-art equipment, with lean manufacturing methods and a high level of automation. Continual Improvement is deeply embedded in our everyday processes — we have a healthy dissatisfaction with the status quo and are constantly seeking ways to improve.
We invest in duplicate tooling to reduce the risk of supply shortage and allow us to shift production between factories and suppliers on key products.
We pride ourselves on our product quality and resolve any quality issues quickly and comprehensively, identifying and addressing the root causes of any complaints and putting into place corrective and preventative actions to minimize potential recurrence.
Industry-Leading Fulfillment
As the world has accelerated its shift to direct and digital, we have evolved our distribution and fulfillment capabilities to stay ahead of the curve. As with our factories, a high level of automation allows for speed while retaining flexibility. With a holistic approach to designing our fulfillment value chain and direct- to-consumer fulfillment as a core competency of our Marketing Arms, we have been able to achieve industry-leading delivery times and service levels.
Financial discipline has been infused into all aspects of the business where investment is significant and returns are variable. It is now second-nature for our people to estimate the ROI on everything from online advertising spend to large capital investments. When an investment yields immediately positive net returns (such as online ads that drive more attributable contribution margin dollars than the ads themselves cost), we recognize the net-positive impact to our bottom line and don't hesitate to plow more money into it, even if it wasn't originally budgeted.
New Level of Visibility and Financial Management
Meanwhile, the new Global P&L and Brand P&Ls have brought a new level of visibility and financial management into our Marketing Arms and Global Brand Hubs, respectively. Our Finance teams collaborate with all functions to ensure we deliver upon our profitability goals.
Business Process Automation
Driven by a large-scale implementation of better systems and robotic process automation (RPA), we have largely automated manual business processes and it is easy to pull relevant data for reporting and analysis. As a result, our people are able to focus on more strategic and value-added tasks that cannot be performed by robots.
Intuitive and User-Friendly Systems
Empowered by our systems, which despite their power are intuitive and user-friendly, our people are able to easily analyze the business and unearth important insights from the data. In the spirit of Innovation, we are always experimenting with new tools and systems to give ourselves an edge, but we manage to do so without sacrificing cybersecurity.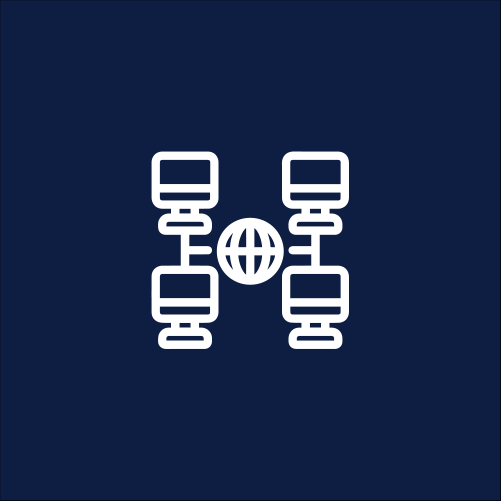 Our systems work seamlessly together, and we have a strategic, global approach to information technology. We are ahead of the curve in adopting new software, hardware, and technology that drives our business to greater heights of efficiency and effectiveness.